The Design and Integration Area aims to develop inherent techniques and methodologies for integrating artifacts and their lifecycles through design and manufacturing.
Subareas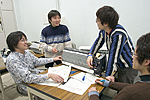 Design Engineering
Fujita, Yamasaki & Nomaguchi Lab.
Toward creative product design and development, this laboratory is in charge of research and education of design theories, design methodologies and computer-aided design technologies for realizing comprehensive and systematic design process, in which all issues, such as value, function, structure, cost and time, must be integrated.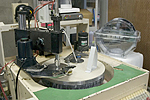 Precision Machining
Enomoto Lab.
The Precision Processing Laboatory conducts education and R&D activities of precision / ultra-precision machining, especially cutting, grinding and polishing.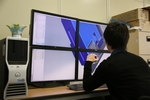 Sustainable System Design
Kobayashi & Fukushige Lab.
For realizing the sustainable society, Life Cycle Engineering Laboratory studies design theories and methodologies of product life cycles, especially from the holistic viewpoint of life cycles that contains product design, manufacturing, operation and service, reuse, recycling, and disposal.
Media Informatics
Kanaya Group
© Department of Mechanical Engineering,Osaka University All rights reserved.