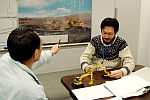 Komatsu MIRAI Construction Equipment Cooperative Research Center
Miyahara Lab.
Our lab. is the joint research laboratory of university-corporation relation between Osaka Univ. and Komatsu Ltd. Our research interest is concerned with the power mechanical system such as Diesel engine system, hydraulic pressure system in the construction & mining machines. The fundamental and practical studies are in progress for low emission, optimization for maximum efficiency of these systems in relation to the strategy for the mitigation of global warming and the energy crisis in global revel.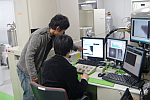 Atomic Design Research Center
Nanostructural Engineering Lab.
Nanosized materials have a large specific surface area and are different from bulk materials in crystalline structure, electronic states, mechanical properties and other physical quantities. From this point of view one can expect that current engineering is not directly applicable to nanomaterials. We are mainly working on development and systematization of "nanoengineering for nanomaterials consisting of carbon atoms as the main element".